Description
Dog Breath Dental Treats provide a whole new way to address dog breath and tartary teeth. Whether you're implementing a daily dental routine or looking for a fix for that awful green cloud floating near your pup's mouth, Dog Breath is a quick and easy tool. No brushing. No spraying. No struggle. Just a fun-to-eat treat!
Dog Breath is a natural way to address stinky breath and tartar-coated teeth in dogs. With sea algae, spearmint, and parsley, these dental treats are your multi-tool to a healthy teeth and mouth. The spearmint and parsley work together to freshen up breath, while the sea algae uses its natural biological process to soften up tartar on teeth.
Ingredients: Gelatin, vegetable glycerin, sea algae, spearmint, guar gum, sunflower lecithin, egg whites, pea fiber, vegetable oil, parsley, citric acid



Feed one dental treat daily, after the last meal of the day.
For Dogs:
Under 40 lbs — Small Sticks
Over 40 lbs — Large Sticks
For animal use only. This product is intended for intermittent or supplemental feeding only.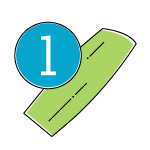 Feed like a treat, once daily
Give one dental stick to your dog before bedtime, as you would a treat. It's totally okay if he finishes the treat before you're done closing the bag — all it takes is a couple crunches for the active ingredients to coat the teeth.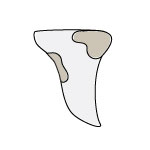 Let those ingredients work their magic!
As you continue to use Dog Breath, the tartar on teeth will get softer (so soft that eventually you can just scrape it off with a finger!).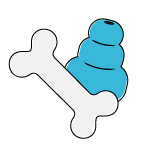 Allowing your dog to have a hard toy or bone can help get at the soften tartar even further — a fun activity for pooch and a helpful one for pooch's teeth!